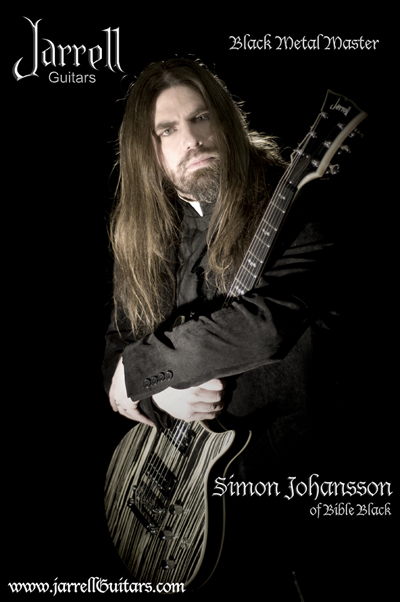 Born and raised in the north of Sweden Simon Johansson started to play guitar at an early age. At the age of 17 he moved down too the Swedish capitol Stockholm. There he formed the band Fifth Reason consisting of members from bands like Hexenhaus, Memento Mori, Tad Morose etc. Fifth Reason released 2 albums and played many shows in Europe during the 90´s.
In 1994 Simon joined Abstrakt Algebra, a band formed by Leif Edling (Candlemass). Musicians Mike Wead (King Diamond, Mercyful Fate, Memento Mori, bibleblack etc.) and Mats Levén (Yngwie Malmsteen, Therion etc) were also involved in this project. Abstrakt Algebra released their self-titled debut album in 1995, which was followed up with some summer festivals and club shows throughout Europe.
In 1996 Simon joined the Swedish Doom band Memory Garden. Shortly after that they signed a contract with the legendary label Metal Blade Records. With Memory Garden , Simon has played shows all over Europe including festivals like Wacken Open Air, Sweden Rock Festival, Headbangers Open Air, and many others. They have also played many successful shows as headliners and with bands like Candlemass, Grand Magus & Manila Road.
After their early collaboration in Abstrakt Algebra, Simon once again joined forces with Mike Wead, writing songs for a project called Firegod, which morphed in to what is today known as bibleblack. In 2009 bibleblack´s debut album "The Black Swan Epilogue" was released. bibleblack has spent the last years playing shows with bands like The Haunted, Nile, Scar Symmetry, Onslaught, Melechesh to name a few. In 2009 bibleblack was nominated to "Best Newcomer" at the Swedish Metal Awards. bibleblack" is currently hard at work recording their second album. In addition to his full schedule as a sought after guitar player, Simon is also a recording studio engineer.
We at Jarrell Guitars are proud to announce that Simon Johansson has joined our family of talented endorsers. He is playing the JZS-1 Zebra (H). He and his band mate, Mike Wead, have made the JZS-1 Zebra the official guitar for bibleblack. Simon had this to say about the Jarrell, "I must say that I really love my Jarrell ZS-1, it has a great tone, the craftsmanship and appearance anre impressive, and it plays like a charm, and that makes it a top choice for me both live and in the studio."
You can find out more about Simon and bibleblack at http://www.myspace.com/bibleblackofficial
Additional Projects: Steel Attack – Simon handled guitar and recording engineering duties on the last album Carpe DiEnd. They have played numerous club and festival shows in both Sweden and Finland.
Satariel- Played guest leads on their album "Hydra". Simon is now part of the band as a full-member. Satariel is currently finishing of songs for the next album.
Wolf – Simon joined his friends for a 4 date tour in support of W.A.S.P. Performed as guest guitar.
Edge of Sanity and Chainsaw – Performed as guest guitar.
Wolf - Simon Johansson has replaced the legendary Johannes Axeman in "Wolf"
Wolf performs at Bloodstock, & Summer Breeze 2011,
followed by a Europe tour wtih "Firewind" - Gus G of Ozzy Osbourne band.
http://www.wolf.nu
FIREWIND + WOLF "Defiance Over Europe" Tour 2011
FR 09.09. Southampton, UK -
Talking Head SA 10.09. Manchester, UK -
Moho SU 11.09. Glasgow, Scotland -
Apollo 23 MO 12.09. Reading, UK -
Sub 89 WE 14.09. Zoetermeer, NL -
Boerderij TH 15.09. Den Bosch, NL -
W2 FR 16.09. Kerkrade, NL -
Rock Temple SA 17.09. Vosselaar, BEL -
Biebob SU 18.09. Cologne, GER -
Underground MO 19.09. Aschaffenburg, GER -
Colos Saal TU 20.09. Hamburg, GER -
Knust TH 22.09. Vienna, AUT -
Szene FR 23.09. Brunico, IT -
UFO SA 24.09. Pisa, IT -
Borderline MO 26.09. Paris, FRA - Le Nouveau Casino


Discography: Abstrakt Algebra Abstrakt Algebra 1995
Fifth Reason Psychotic 1997
Fifth Reason Within or Without 2001
Memory Garden Verdict of Posterity 1998
Memory Garden Mirage 2001
Memory Garden Marion (7" EP) 2004
Memory Garden Carnage Carnival 2008
Memory Garden Tides (re-master) 2009
Satariel Hydra 2005
Steel Attack Carpe DiEnd 2008
Edge of Sanity Crimson II 2003
bibleblack The Black Swan Epilogue 2009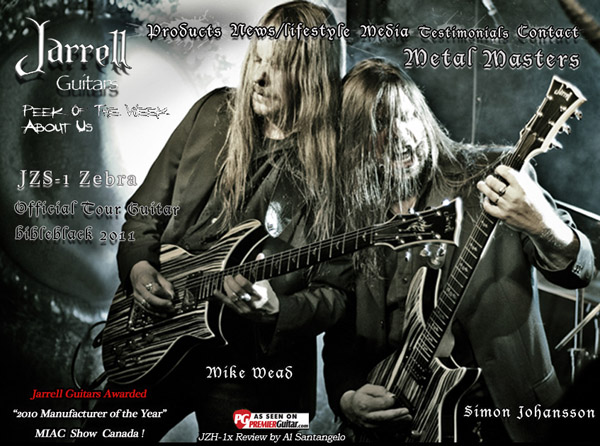 September 2011 Simon Johansson and Mike Wead were the first ever artist to appear on the home page of Jarrell Guitars. Mike Wead had earlier in the year anointed the JZS-1 Zebra to be the official tour guitar for bibleblack 2011.