Michael Fish Herring: Oct. 2010
Hi Phillip !
The guitars are amazing! I'm really loving the JZH, I'm using it a bunch throughout the set with Justin Timberlake, Christina Aguilera and Lady Antebellum. I really dig the tone of that guitar..amazing versatility! The mini-switches on the pickup rings, brilliant! The tones coming from that guitar are so sweet! Awesome full, round, funky & deep clean tones, bright and punchy overdrive tones and super warm sustain for solo sounds..I'm impressed! I haven't spent as much time playing the JZS yet, but I will over the next week..lots more preparation to do for the big show on the 23rd. I'll stay in touch & send a few pictures before the end of this week.
Have a great day !
<(((><
Michael "Fish" Herring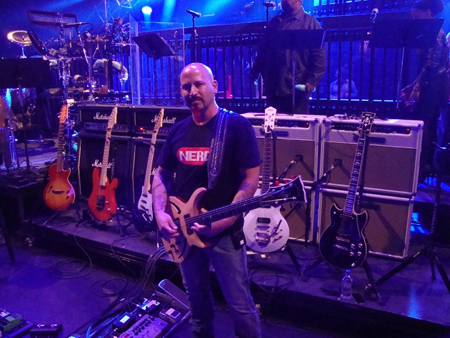 Phillip,
I'm finally back from Vegas! I was having all kinds of email problems while I was there, plus working non-stop preparing for the show, so I'm sorry for not getting back to you guys sooner. The show came off really well, the hard work definitely paid off! I got so many complements and questions about the JZH guitar, everyone loved it and wanted to know more about it! It sounded amazing and was so comfortable to play, definitely made the show easier for me! That's quite a versatile guitar, especially once I figured out how the mini-switches were set up. I used it during Christina Aguilera's set, Justin Timberlake's set, T-Pain's set and also with P Diddy. Here's a few pics from the last rehearsal, I should have shots from the show coming from the photographer soon.

<(((>< Michael "Fish" Herring
----------------------------------------------------------------------------------------------------------------
Hello there Phillip!

Nice to meet ya! I am indeed enjoying the great guitar... My wife wanted it the moment she played it and that is really saying something. She thinks we have way too many guitars already. But she was all for allowing this one exception! *grin* Let me know next time you are coming to Nashville and we will get together...
Rick Carnes
President, Songwriters Guild of America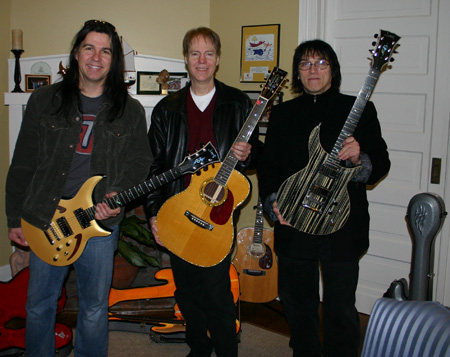 Mark Slaughter, Rick Carnes( President of the Songwriters Guild of America) owner of a Jarrell acoustic, AJA-OSR-29, and Phillip Jarrell with a ZS-1 Zebra Chr. in the Nashville office of Peer Music. Thanks Kevin Lamb for the picture.
Nashville songwriter Rick Carnes has 21 million records sold with tunes he has written or co-written. A professional songwriter for 23 years, has written for Sony Music International, Elektra Asylum Music, and Peer Music International. He also has been a recording artist for Warner Brothers, MCA, and Elektra Asylum Records. A native of Memphis, Carnes moved to Nashville in 1978 with his wife, Janis, and the duo signed their first record deal. Rick had a single on Steve Wariner and Garth Brooks called "Burnin' the Roadhouse Down", the title cut off Steve's last album. In '83, Rick wrote Reba McEntire's first #1 hit, "I Can't Even Get The Blues No More" and co-wrote with his wife Janis and Chip Harding three top ten hits for The Whites "You Put The Blue In Me," Hangin' Around" and "Pins and Needles". Rick also had success with album cuts on such artists as Conway Twitty, Karen Brooks, Loretta Lynn, Lacy J. Dalton, Johnny Rodriguez, Janie Fricke, Ronnie McDowell, T.G. Shepard, Pam Tillis and the Garth Brooks single "Long Neck Bottle" has been certified 12 platinum.
http://www.songwriterstudio.com/shows/rickcarnes.asp
Peter Mayer to me Feb 10, 2010
Phillip,
Thanks for getting in touch. Mac, good friend for a long time was kind enough to turn me on to your instruments. I've really enjoyed the last 3 or 4 days with the JZH 1x (spruce and purplewood). Great workmanship and design. I played it on the gig we did with Jimmy Buffett down in Miami and it has a fat tone that rocks. Sustain is great, the pitch accuracy is excellent as well, and being a Martin Slot Head acoustic player like Mac, I really enjoy the fatter neck. Doug Breidenbach our guitar tech, who has worked with Steven Stills and a tons of others was commenting on the nice work you've done. I appreciate the diagram you sent of the 3 way switches. I've been getting to know their tone, but it's nice to know what they're doing in the process. I spend a lot of time on the strat, so it's been nice to have that split mode that is single coil-ish. I play through a Koch amp and the clean and distorted tones are beautiful. With subtle changes in th balance between the pickups you can get a million interesting sounds, and what's best, .......the guitar makes you want to write and play music. That's a high calling. I went ahead and put .011-.048 strings on mine and find that it still feels so playable. I tend to like a bit more resistance and was finding that I was fretting out a bunch with the lighter strings. I'll take a few photos and along the way try to send you something when I record with it. Many thanks for your excellent work.
Peter Mayer plays lead guitar, with the Jimmy Buffett Band